Nexcess' Product Manager for WordPress eCommerce on what inspired her love of tech, relying on trusted friends as advisors, and the power of hospitality.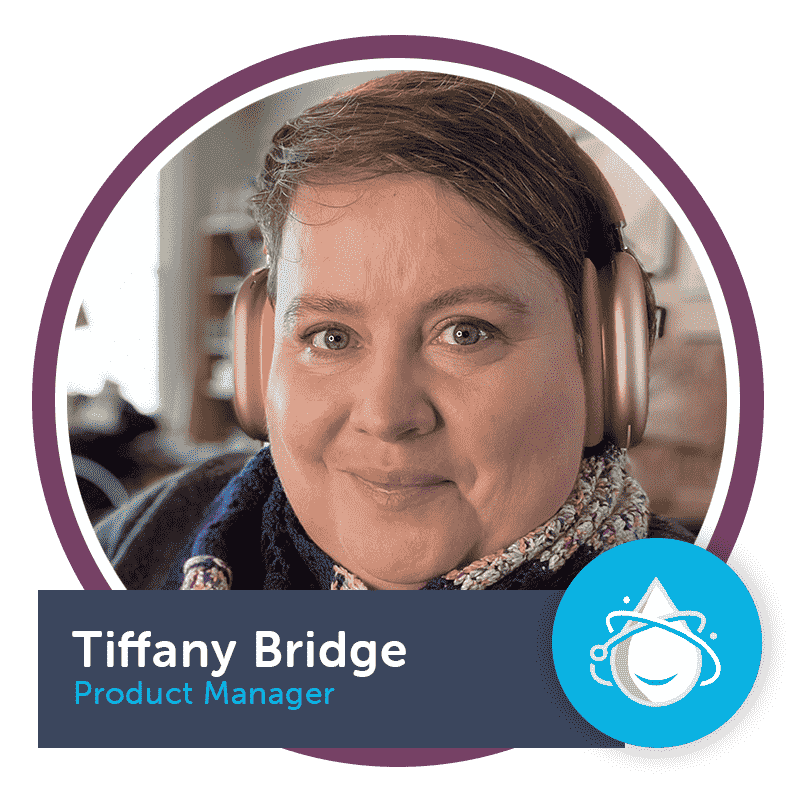 Tiffany Bridge is originally from the Pittsburgh area, in a little town called Clairton. "My family has lived around there for generations, so I grew up with lots of aunts and uncles and cousins and second-cousins-once-removed close by, sometimes on the same block," she says.
Bridge grew up watching Star Trek reruns with her parents, a childhood pastime that set her expectations for how we should interact with computers and what they should be able to do for us. So when the Web began making its way into homes when Bridge was in high school and college, she knew it was something she wanted to learn as much as possible about. "It felt like the beginning of my expectations finally being met!"
After completing high school, Bridge received a degree in political science. "I wasn't expecting to go into tech," she says. "After I finished school, I was tech-adjacent for a long time. I worked as an office manager for a dot-com (in the first dot-com bubble!) and as a tech recruiter for a staffing agency, all the while teaching myself more and more about tech in my free time." That's how she got started with WordPress in 2004 and then got a job managing web content for an association in DC. "I did federal web consulting for a while, spent some time freelancing, and then went to work for Automattic before ending up here. Tech has always been a fascination of mine."
Now at Liquid Web, Bridge serves as the Product Manager for WordPress eCommerce on the Managed Apps team. "That means I spend a lot of time thinking about how to make our platforms the best place to make money with WordPress," she says. "Sometimes that means deciding what kinds of features and add-ons to include in our plans, working with our Marketing and Sales teams to understand the needs of the whole spectrum of WordPress users, and sometimes it even means collaborating with design and development teams to imagine, prioritize, and build the features of a product like Storebuilder."
After years of being a tech person in non-tech environments, when she finally made the leap to tech, it surprised her at first how much she didn't want to be around computers when her workday was over. "Now that something that used to be my hobby is my full-time job, it's the last thing I want to do on my off-hours," she says.
When she's not working, her favorite way to spend a day is reading a novel. "It's hard to get that uninterrupted time as a parent, so when it happens, I don't take it for granted. Something that's a bit more accessible now, though, is that I will also spend a whole day in my kitchen. Cooking requires me to be present in my senses, and if you look at pretty much any form of meditation, it's the same thing: noticing what your senses are telling you and trying to stay present in it."
Bridge has found that career success comes when she is most aligned with her values. "It sounds hokey, but it's true: success is so individual that if you start measuring it by the things someone else thinks are important rather than by what you know to be important, the wheels come off."
Friends play an essential role in keeping her grounded. She moved to the Washington, DC area in her early 20s and now lives in Northeast DC with her spouse, child, and cat. "Neither of us is from here, so we've had to re-create that sense of nearby family with a tight group of friends." Bridge feels she has been fortunate to have some close friends who have become both trusted advisors and hype-women when she needs it. "They haven't written books or viral blog posts or anything like that, but they know me and what's important to me, and they give good advice that helps me keep perspective on who I am and what I value when I'm trying to make career decisions. Of course, I've read good books and found lessons from high-profile people, but these couple of friends have steered me, personally, better than anyone else could."
Bridge knows that the future of women in technology depends on how we as a society support women and caregivers. "The pandemic has pushed a lot of us out of the workforce (including me for a little while), and there are no signs that, as a society, the U.S. is going to stop relying on women to pick up the slack instead of building a real social infrastructure," she says. "Where I hope the future is going is that we forget about trying to #girlboss our way into running things like men have been and start (and in many cases continue) imagining a better future, more ethical goals for our products, more equitably distributed benefits of what we build and maintain."
And more women in tech will mean better products for everyone. "I think a consistent challenge in the tech field is the homogeneity of folks making the product decisions. The most obvious example is abuse and moderation; many of the platforms we use have to scramble to solve their harassment problems after the fact because they were designed by people who rarely get harassed. But it's true for a lot of things. When product decisions are made by people who don't have experience with the problem being solved, the solutions suffer. That's not going to get better without women and other traditionally under-represented folx getting into those rooms. We have to get there, and we have to help each other get there."
Bridge suggests that women starting in tech be selective about whose advice they follow. "Make sure you understand their values and priorities because that will shape the advice they give you. Mentorship is great, but at your job, sponsorship is better. You need people who are going to have your back, talk up your ideas, introduce you to people, and help you raise your profile."